5 Easy Must-Dos For A Great Social Presence
With so many aspects to consider when it comes to your digital presence, it comes as no surprise that maintaining well-kept social media profiles can be pushed down the to-do list in favour of Paid Search or SEO activity.
Regardless of your business model, in this day and age having some sort of social media presence is an essential. But are you using your social channels to their full potential? We share our top tips to give your social media a much needed boost!
Strategically Schedule
As a general rule, it is unusual users will check into Facebook, Twitter or Instagram at the same time. The world is a busy place, and with some people starting work at 9am and others finishing work at 10am, how do we target our audiences effectively?
Simultaneously, the best and worst thing about each social platform is that they attract completely different user types who are active at different times.
With the lifestyle driven social channel, Instagram, posting in the mornings - particularly Monday, Wednesday and Friday, as well as evenings from 5-7pm encourage the most interaction across the board.
Depending on your industry, there's likely to be a particular a sweet spot for maximum engagement. To find yours, trial different times and use the analytics from a social media scheduling tool like Buffer to identify when users interact the most with you. In fact, Buffer even offers an option for "optimal scheduling" and will look at your previous performance and automatically forecast your most efficient times to post.
Spruce Up Your Profiles
Would you like to go on a company's profile, click on the link to their website and be directed to an 'error' page? Probably not.
Making sure the following are kept up to date across not just your website but social media channels too is extremely important in creating a uniform, professional presence:
Company logo/name - make sure your logo and company name are consistent across all your social channels - and e-mail signature too!
Business address and contact details - how else are prospective customers going to get in touch?
Images - ensure your imagery is relevant and up to date - do you really want to be using a bank of images that are clearly outdated?
Links to website landing pages - sending a potential customer to an out of date or incorrect landing page will only generate further friction in helping your users engage with your brand.
Dull, Drab Content
This is a big issue for brands - the burden of content creation means that in-house teams can become bored themselves of churning out material for social channels. The result? Content that speaks at your followers, instead of engaging them.
Experiment with different types of content. Try video. Arrange a Q&A event. Engage your audience with questions. Do a live stream.
Our client, Arran Whisky, has a great social media presence, with their content getting great engagement across the board!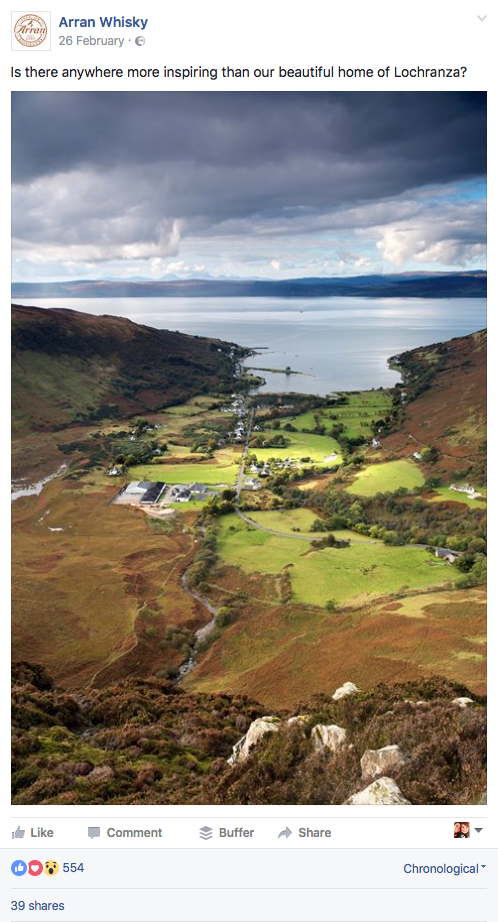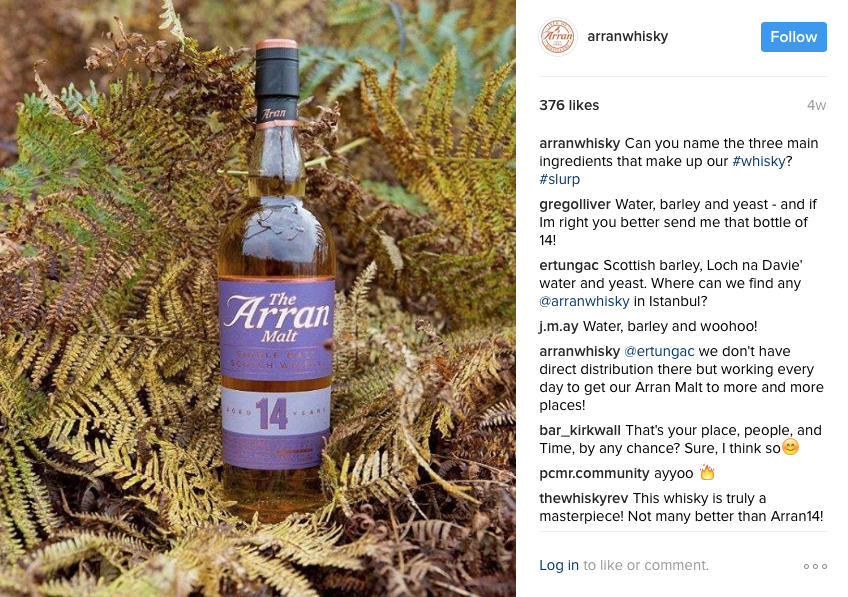 To keep your audience engaged, you have to keep the content consistent - so make sure to ask yourself the following questions when posting:
Who is my audience?
What am I trying to say?
What is my aim with this content?
Put yourself in the shoes of your audience. Is your content interesting? Would it motivate you to like or share?
Grammar Matters
There is nothing more cringeworthy than a spelling mistake or grammatical error on a company website or social media channel.
Impressions matter.
Ensuring you don't make any amateur grammatical errors not only gives the user confidence in making an action such as purchasing a product from your site, but also in the quality of your services.
Proof check, and then proof check some more. Take the time to go back over the content and check for those errors that you may have missed first time round. A silly mistake isn't worth losing a prospective client or customer.
Engagement Speaks for Itself
It's all well and good posting consistently on your channels, but if your audience aren't commenting, liking or sharing, it's unlikely to appeal to prospective users searching for social proof about your brand's reputation.
Reviews are one of the best ways to gain credibility for new visitors to your profile. Five star reviews always trump one or two stars, so why not ask happy customers or clients to leave a review the next time they visit your social channels? Speaking of reviews, have you left one on our Facebook page yet?
The same goes for your everyday posts - encourage engagement by asking users to share their opinions, hitting like on a photo, or tagging a friend in the comments will help to build your reputation, as well as a community around your brand. Once the likes roll in, others will follow - just keep producing great content, and you'll be set to go on the path of social media success.
Want to overhaul your website and social channels further? Why not read our top tips for spring cleaning your online presence now?