How Do You Grow an Online Community?
Juggling all your digital channels can feel like an overwhelming task - and with the digital landscape becoming only more challenging to succeed within, having an engaged online community will be a key factor in achieving your goals. But, with algorithmic updates, rising advertising costs, fiercer competition and no clear answers on where to focus your efforts on next, you may find yourself asking, how do you grow an online community in 2018?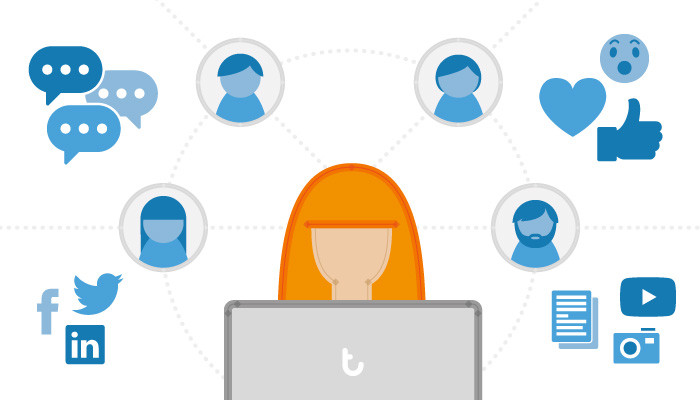 What is an online community?
An online community is a group of people who come together on the Internet through shared interests, hobbies or purpose. Where an online community exists online can vary - they can present as a forum, a Facebook or LinkedIn group, a dedicated website or even as a Twitter "chat" (a Hashtag discussion that takes place at regular times and intervals.)
What separates an online community from a brand page is that content curation is not solely on the community manager. Members of a community will usually share their own content and encourage discussion. That's not to say that you can't use your online community to deliver customer service - a group is actually a great place to pick up on complaints and unhappy users! But it's important to understand the difference between an online community and your brand profile/page.
Equally, a community isn't always going to be about your brand, even if you "host" the community as such. You might think that posting a constant stream of promotional materials will make your members happy and increase your sales, but the reality is nobody likes to be spammed with ads and this approach is likely to make users reluctant to contribute or even leave your group. A well-engaged community will thrive on more conversational topics - and in turn, positive experiences had within the community will become associated with your brand.
Do I really need an online community?
Yes! Any opportunity that allows you to interact with your users on a one to one basis shouldn't be passed up, and having your own online community can be beneficial beyond the obvious. For instance, forming a community using a Facebook group is a great way to combat the recent newsfeed update and mitigate the expected decline in reach.
An online community can create a perception of status or belonging too - and in turn, make your products or brand more coveted. For instance, the White Stag Community by Arran Whisky - a community where users can sign up free of charge and benefit from taking part in events and buying limited edition whiskies exclusive to the group itself. By maintaining such a community, complete with its unique benefits, means users are consistently coming back for more and remaining engaged with the brand on a frequent basis.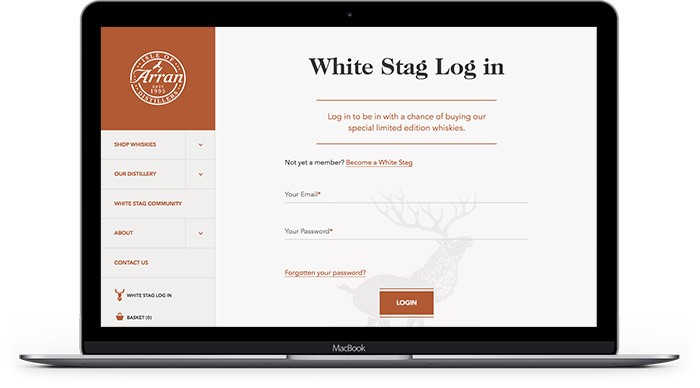 Private or invitation-only online communities can serve as an excellent place to source qualitative market research. By adopting a community where you can interact with users on a one to one basis, they'll be more engaged, and in turn more open about what they need. Want to try out a new idea? Just ask your users what they think - or better yet, what they'd like to see.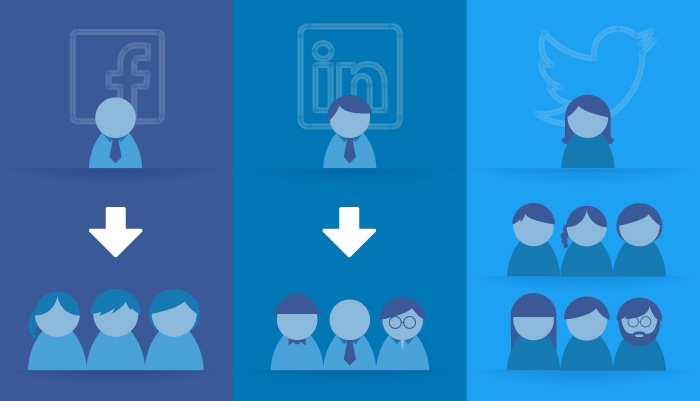 Where should I begin?
To get started on building your digital community, you'll have to consider what platform will work best for you.
A dedicated website/area on your site/app - this is most likely to appeal to businesses who are looking to have complete creative control over the community. By hosting your group on your own website, your capabilities are unhindered - you can even create tools, games or features exclusive to your fans. Recruiting members to this sort of community can be tough - unlike social platforms where users require minimal effort to sign up, you're faced with friction in the first instance by getting users to join up, then remain engaged and keep coming back for more. To overcome this, your online community will need to offer a unique selling point - such as access to community exclusive products or events.
Facebook Groups - hosting an online community through a Facebook group is likely to appeal to a wide number of businesses for the potential captive audience alone. Facebook groups are considerably more informal - so this may be ideal for businesses who deal with customers on a B2C basis. Facebook groups can now be directly linked with a brand page, giving you a little bit more control over your brand influence.
LinkedIn Group - hosting a group on LinkedIn is likely to appeal to businesses that offer primarily B2B services. Gaining visibility on LinkedIn can be a challenge - the trick here is to make sure you keep up the momentum, optimise your group's title and description and refrain from over-promoting your products.
A Twitter "Chat" - "what's a Twitter chat?" you ask? It's a discussion that occurs at a designated time between Twitter users using a specific hashtag. The creator, owner or host will keep the conversation between users flowing with a series of questions posed over the time period (usually an hour) of the chat. Twitter chats can become very animated - and as more users join your group, the more chance you have of trending too! A word of caution: Twitter chats can be incredibly rewarding, but require a lot of management. Chats will likely perform best "after hours", so bear in mind your operational activities if your community manager works on a 9-5 basis.
How do I recruit members?
Your online community can only succeed with members! But, how can you get your users to join up? There are a few things you can do to get the ball rolling!
Highlight the incentives - when asking your users to join a community, you're asking them to give up their time to interact with you - even more so if your group exists away from the mainstream social media channels. It's important to appreciate this and consider what a community group could offer your users - exclusive members-only events? Access to sales/products earlier than other users?
Promote across your social channels and website - your existing followers are a sure bet. They've already proven they're interested in your brand by following your content, so make sure to tell them all about your group too! If you're posting to Twitter or Facebook, pin your post to the top of your brand profile page, so when new users come across your brand, it's the first thing they see.
Send an email - don't forget your loyal newsletter subscribers! Often an overlooked source of traffic, email databases can be an excellent medium for driving up membership for your online community. Just don't forget to include the benefits in your email!
Use Facebook ads - despite rising costs, social advertising remains relatively affordable. If you've chosen to run your online community through a Facebook group (connected to your brand profile), then setting up targeted ads aimed at your existing followers and those with an interest in your community is a no-brainer! How much should you spend? That's up to you, but you're likely to see strong results from audiences matched to your existing customers, lookalikes and specific interests.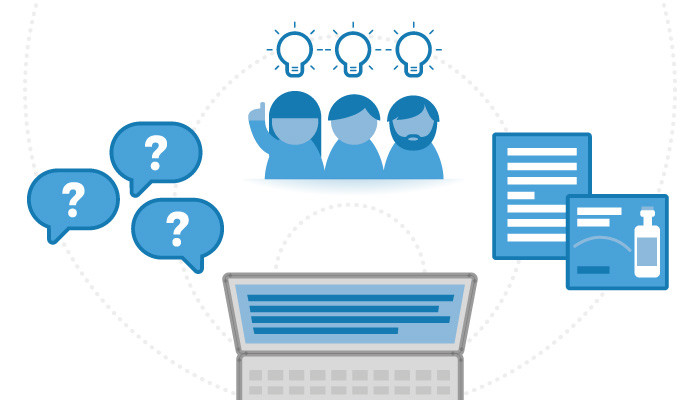 What sort of content should I post?
You've chosen your platform, set the budget and have a recruitment plan in place. Now what? Even though your members will likely generate their own content, a good group admin will help to stoke the fire and get the conversation flowing. When it comes to curating content, there's a number of routes you can go down, such as:
Asking questions relevant to your user's interests - is there a controversial topic that relates to your industry? You may have to tread carefully when it comes to speaking about something that's topical, but it's also a sure bet to driving up a conversation.
Share quality content - groups are a great place to share content - but make sure it's unique to what you're posting to your social media channels! Post the same content and you're just spamming your users with updates they are likely to have seen elsewhere.
Use your group as a support forum - is your service or product particularly technical? Using a group can be a great way to identify common problems (and in turn inform business decisions later down the line) and reduce admin for your support team. In a well-engaged community, members are likely to jump in with suggestions or fixes before you do.
Creating an online community also means the responsibility of moderation. Just like with social media, a community manager should follow a "social media policy" of sorts and have clear, predefined guidelines on how to manage conflict when it arises, as well as understand what sort of content is suitable for the audience. With a community, it's important to bear in mind that you won't be in complete control of the content, so daily evaluation of the group will be necessary and you may find it beneficial to appoint more than one group administrator to handle the traffic.
Growing an Online Community
Growing an online community isn't an easy task, but with the right tools and approach, it can help to solidify your relationships with your customers and possibly even grow a brand ambassador or two! However, as with any digital channel or venture, you'll only get back out what you put in, so if you decide to create an online community, make sure you have the time to commit to making it a success.
What challenges have you faced growing an online community? What platform did you choose and why? Join in on the conversation over on Twitter now!